This year's World Antimicrobial Awareness Week was launched in Koforidua on 14th November 2021 with a call on regulatory agencies to help fight the menace of Antimicrobial Resistance (AMR).
Research shows that without effective antimicrobials for the prevention, management, and control of infectious diseases, medical procedures such as organ transplantation, cancer chemotherapy, diabetes management, and major surgeries become high-risk endeavors with significant morbidities and mortalities.
At the launch, and in a speech read on behalf of Mr. Kwaku Agyeman-Manu, the Minister of Health, it was stated: "We must ensure the public comply with protocols regarding the use of antimicrobials such as using the drug prescribed by medical experts and accessed in approved sources only, and not purchased anywhere or from hawkers who ply their trade at lorry stations and other public spaces."
 "It must be noted that the cost of healthcare for patients with resistant infections is far higher than care for patients with non-resident infections due to longer duration of illness, hospitalization, need for additional tests, and use of more expensive alternatives that the resistant pathogens may respond to," he said.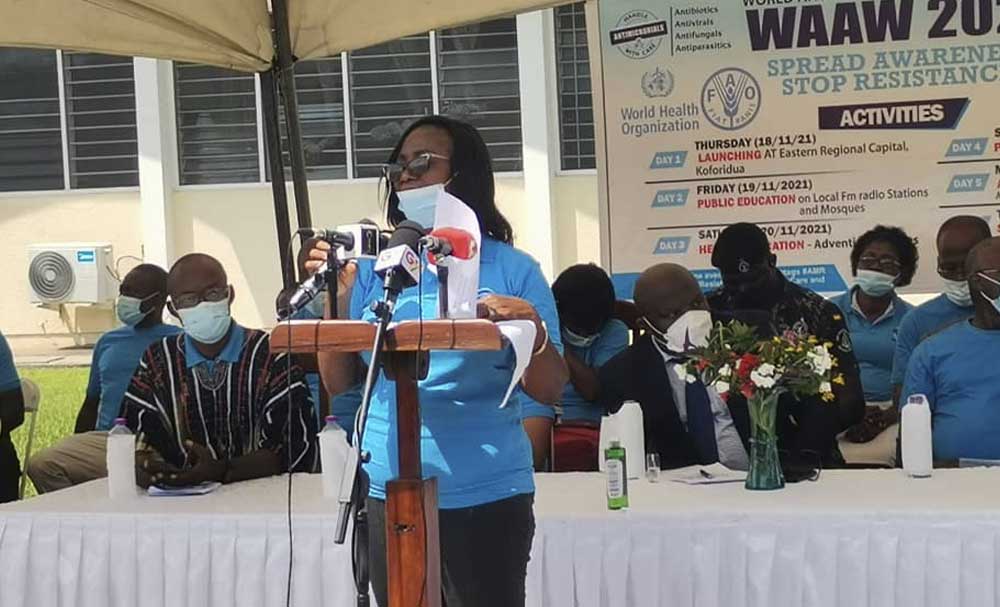 The Health Ministry, in collaboration with Ministries of Agriculture, Science, Technology, Innovation, and Environment; Food and Agriculture; Fisheries and Aquaculture and allied stakeholders are leading the implementation of a comprehensive national policy and action plan. These strategic documents were developed by a multi-sectoral, multi-stakeholder National Antimicrobial Resistance Coordinating Committee (AMR CC) or Policy Platform with support from WHO, FAO, and OIE and an international NGO, Action against Antibiotic Resistance (ReACT), which was launched by the President of Ghana in 2018.  
In relation to this year's Antimicrobial Resistance Awareness, Professor Kwame Ohene Buabeng, Head of the Department of Pharmacy Practice and Deputy Chair of the national AMRCC also revealed that there are several research projects are ongoing by Lecturers and Graduate students at the Kwame Nkrumah University of Science and Technology to generate evidence to support the implementation of the national strategic policy and implementation plan to contain AMR and its associated threats. In addition, the evidence from these scientific works are also support activities for the creation of awareness and education of the public about the reality of AMR and its devastating impact on health, the health system, and sustainable development.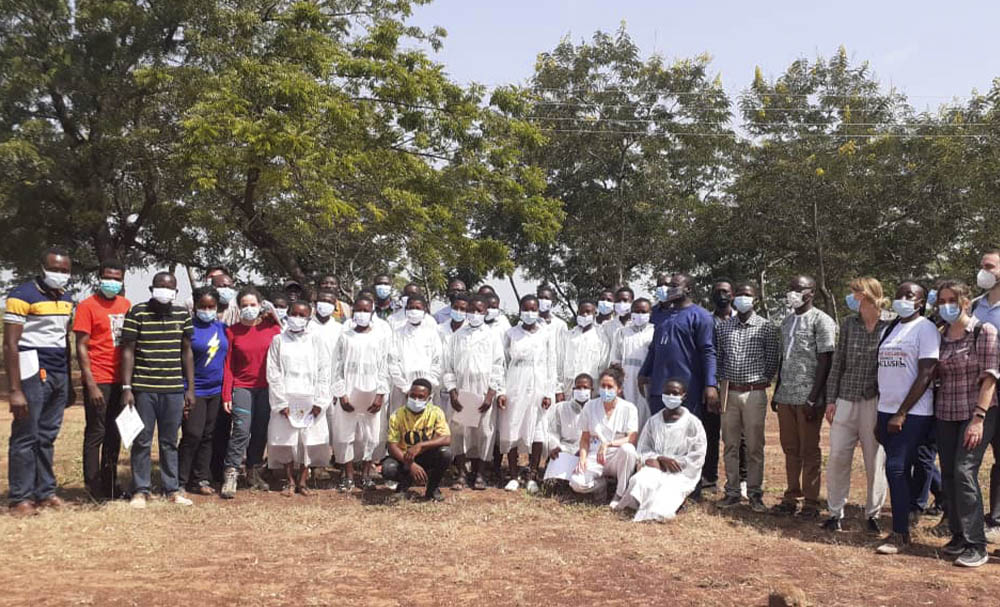 Such projects include the "evaluation of the use of Antimicrobials, and systems and structures in place in hospitals for infection prevention and Antimicrobial Stewardship to ensure the efficient management of Infectious diseases with improved patient outcomes". MPhil students in Clinical Pharmacy and Clinical Pharmacology are assessing the management of sepsis (a serious and life-threatening infection mainly by bacteria) in teaching hospitals in the middle belt and northern Ghana, and also health facilities within the jurisdiction of Kintampo Health research Institute. These studies are is aimed at providing evidence to guide antimicrobial stewardship initiatives and IPC for prevention and quality improvement in disease management, and also save lives of paediatric patients with sepsis as well as preserve the lifespan of essential antibiotics used for the treatment of such infections. These projects were initiated and supervised by Prof. Kwame Ohene Buabeng and Dr. Arnold Forkuo Donko of the Faculty of Pharmacy and Pharmaceutical Sciences (FPPS) and Drs Alex Owusu Ofori and Anthony Enimil of the School of Medicine and Dentistry, KNUST, Kumasi.
Other ongoing research works on AMR in "One Health" are led by Prof Christian Agyare and Drs Vivian Boamah and Yaw Duah Boakye, Pharmaceutical Microbiologist in the Department of Pharmaceutics, FPPS as well as Dr. Linda Aurelia Ofori of the Department of Theoretical and Applied Biology of the College of Science, KNUST. There are also some research works on AMR in Animal Health at the School of Veterinary Medicine led by the Dean.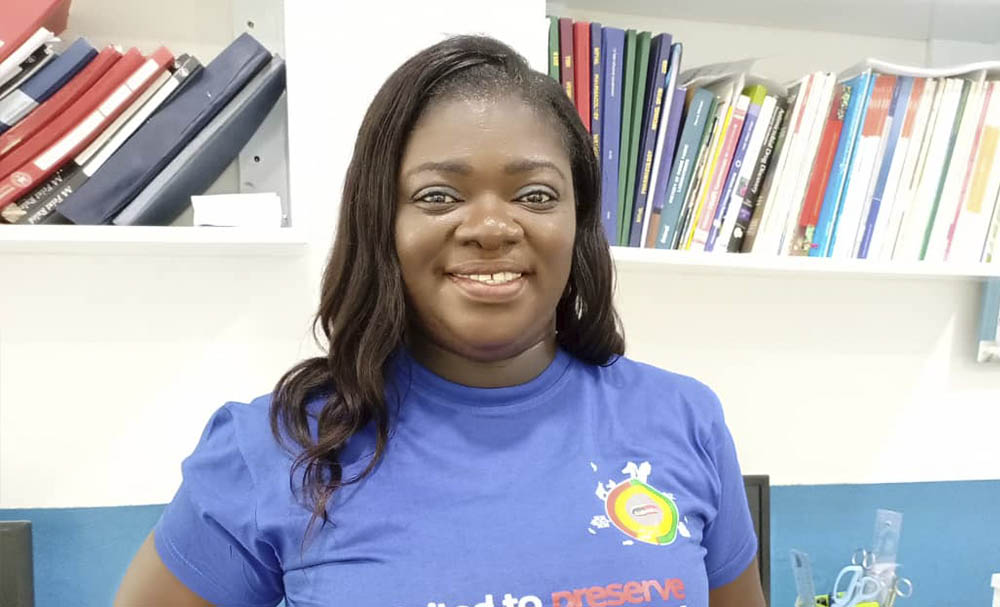 Dr. (Mrs.) Cynthia Amaning Danquah from the Department of Pharmacology, FPPS is also working on Antimicrobial drug discovery. Dr. John Amuasi and the Team in the Department of Global Health, School of Public Health are also involved in various impactful research activities to generate evidence to support the national efforts at AMR containment.
Antibiotic resistance occurs naturally over time, usually through genetic changes, however, misuse and overuse of antibiotics in both humans and animals is accelerating the process.
In many instances, antibiotics are taken or given without any expert advice such as taking it for viral infections such as colds and giving it to animals as growth promoters.
The 2021 Antimicrobial Awareness Week is on the theme: "Spread Awareness, Stop Resistance."
Activities lined up for the weeklong celebration included an awareness campaign in churches, mosques, and education on media platforms as well as training of health reporters and a symposium.