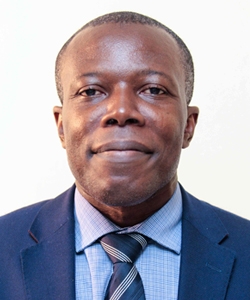 Prof
Ellis Owusu-Dabo
Professor
Department

Global and International Health
Email

eowusu-dabo.chs@knust.edu.gh
Office-location
Research-areas
View Full Profile
I am a qualified registered medical practitioner (Consultant Public Health Physician in Medical Epidemiology) under the Ghana Medical and Dental Council, a Lecturer and Researcher.
Currently, I am an Associate Professor at the Department of Global Health, School of Public Health, based at Kwame Nkrumah University of Science and Technology and as well, the immediate past Scientific Director for the Kumasi Centre for Collaborative Research (KCCR). I acted as Scientific Director of KCCR for six years, graduating from my deputy director role in 2012 after playing that role for two and a half years. It is through these positions that I have had a unique vantage point of leadership and management experience of working with a huge local and international network of institutions from which to undertake high-impact scientific research projects and practice. My primary area of interest is in non-communicable diseases in low-income countries, although with considerable scientific research interest and work in epidemiology and population genomics of pulmonary tuberculosis and health systems.
Additionally, I have participated in many international research consortia including the Medical Education Partnership Initiative (MEPI), African Program for Advanced Epidemiology (APARET), Africa Forum for Research and Education in Health (AFREHEALTH), H3Africa in bioinformatics network (H3Abionet) that seeks to build capacity for genomic data analysis, Africa Network for Drug Discovery and Innovation (ANDI), West Africa Health Research Network (WAHRNET), and led many research projects including the largest TB study to ever be conducted in Ghana.
Over the last sixteen years, I have gained excellent communication, leadership and management experience through research implementation and presentation of scientific findings at many local and international fora. I have also gained interpersonal skills and experience in undergraduate and postgraduate teaching and research within and outside Ghana. Additionally, I have successfully trained and mentored both local and international students at various levels including PhD, and junior faculty to gain their full potential in their chosen fields of endeavour, including those related to public health, epidemiology, biostatistics, clinical microbiology and molecular medicine.
This humble feat in extensive training, management and leadership experience in directing complex research projects and of leading arguably one of the most successful research centres in Ghana, has helped in developing a wide network to fulfill my role in the health sector of Ghana and beyond.