Preamble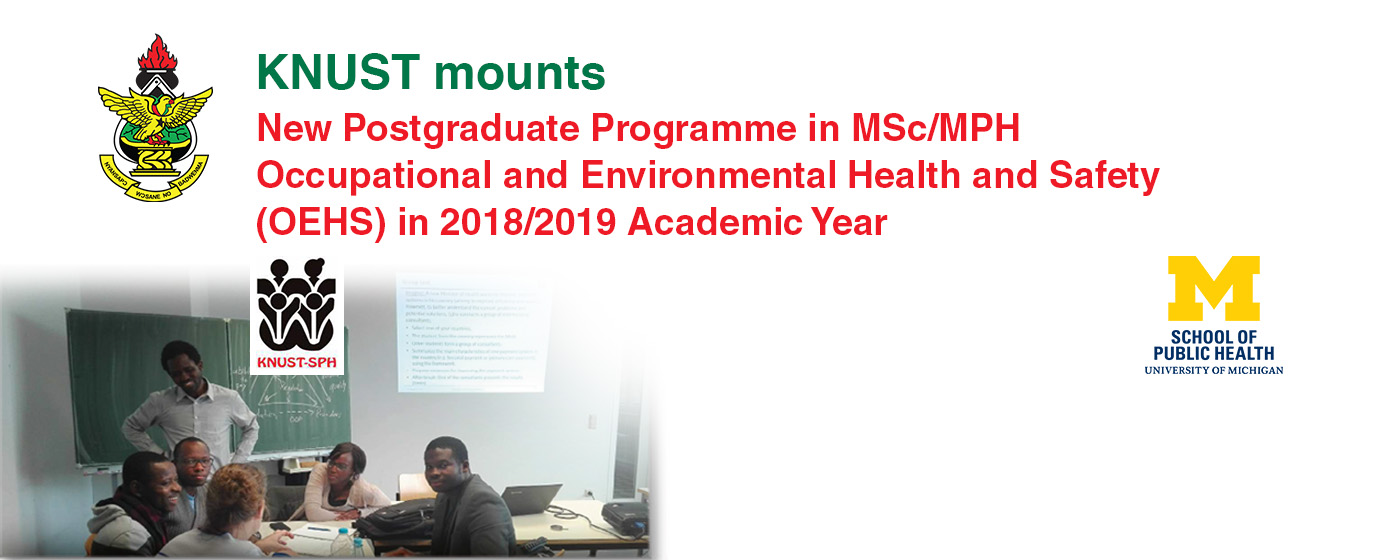 The School of Public Health, KNUST mounts new postgraduate programme in MSc/MPH Occupational and Environmental Health and Safety (OEHS) in 2018/2019 Academic Year.
With the support from the GM charter through an initiative called Partner 1 identified some young faculties from Ministry of Health, Korle Bu Teaching Hospital, Komfo Anokye Teaching Hospital (KATH), Tamale Teaching Hospital, University of Ghana (UG), and KNUST for post-doctoral courses in Global Health in Michigan. The aim was for the trained young faculties to help identify gaps in teaching and research. Teaching and research in OEHS was identified as one of the gaps that needed immediate attention in Ghana because of the numerous challenges in occupational and environmental health in Ghana and most African countries. These challenges culminated in the demand for capacity building in OEHS to address the challenges. Having developed capacity in OEHS, the SPH realized the need to expand the elective OEHS in the existing post graduate programme into a full post graduate programme.
Programme Aim & Objectives
The aim of the programme is to provide a high quality multidisciplinary training in Occupational and Environmental Health and Safety (OEHS), equip graduates with knowledge, skills and tools to fit into many sectors of the economy as well as undertaking cutting-edge research.
Objectives
Specifically, the programme is intended to:
Employment Opportunities
There are many job opportunities for students who graduate from the Occupational and Environmental Health & Safety programme in all the sectors and levels of decision-making (National, Regional, Municipal/District, Agencies, Community and Household). The programme is designed to equip graduates with knowledge, skills and tools to fit into many sectors of the Ghanaian and African economies, including: agriculture (cocoa and other farming ventures, agro-chemical activities, animal rearing ventures and fisheries); extraction (petroleum, oil and gas exploration, extraction and refining; petrochemical industry, the Mines Inspectorate; Mining Companies, Stone and sand quarrying); manufacturing (Factories and Mills; Factories Inspectorate); energy and power generation (hydroelectric companies, thermal, gas pipeline and oil companies). Graduates of the Environmental and Occupational Health & Safety degree are also needed in the Transport Industry (for instance at the Motor Traffic and Transport Unit (MTTU), Road Safety Commission, City Transit Organizations – Railways, Seaports and Airports), as well as in the Financial and Service industries to ensure safe working environments. Students after completion can also set up their own consultancies in Occupational and Environmental Health and Safety.
Entry Requirements
To qualify to read the MSc//MPH (Occupational and Environmental Health & Safety) programme, the applicant should have a good first degree (at least 2nd class lower) from a recognized tertiary institution preferably in any of the Natural Sciences such as Medicine, Veterinary Medicine, Nursing, Public Health, Environmental Sciences, Biology, Pharmacy or health-related disciplines such as the Social Sciences, Development Studies and Education, etc. In addition, applicants should have had at least two years post-graduation work/job experience. The final selection will be done through either a written examination or by panel interview or both, which will be decided by the School.
MSc OR MPH OPTION
There would be two options i.e. MSc and MPH options. Upon admission into the programme, students will have to opt for one of the two options they wish to pursue. Students in the MSc option would spend three months in Field Residency and this option is for those who wish to work in industry or academia. MPH students will spend three months in residency because of the professional nature of the MPH programme. The MPH students will have to carry out a project in a rural area under the supervision of a District Director of Health Services on a project identified by both parties in fulfillment of the conditions for the award of an MPH degree.
Requirments for Graduation
This shall be in accordance with the KNUST's requirements as contained in the University Statutes and the regulations of the School of Graduate Studies. For a Public Health programme to meet the international standards and gain recognition, the programme must attain between 40 and 80 credit hours. This programme requires a minimum of 40 credit hours in line with international standards. For the award of MSc/MPH (Occupational and Environmental Health & Safety), the student must have obtained a minimum of 40 credit hours including the submission and successful defence of a written Thesis.
Please click to apply.