What you need to know about Polio
Polio is an infectious disease that can paralyse and even cause death.

Polio enters the body through water or food that has been contaminated with faeces.

Polio affects both children and adult, but children under 5 years of old are most at risk.

Signs and symptoms of Polio may include fever, fatigue, headache, vomiting, stiffness in the neck, pain and weakness in the limbs.

Polio has no cure, it can only be prevented through immunization, good hygiene and sanitation practices.

Polio vaccine is given at birth or soon after birth and subsequent doses are given at:
6 Weeks (drops)

10 Weeks (drops)

14 Weeks (drops and injection)
Polio vaccine, given at multiple times can protect a child for life.

Polio vaccines are safe, effective and free.

In addition to immunization, you must also do the following;

Always wash your hands with soap under running water:
After visiting the toilet or cleaning the baby's buttocks

Before eating or preparing food

Before feeding your baby

Before serving meals

After playing

After taking care of a sick person
Cover your food and water to avoid contamination

Wash fruits and vegetables under running water before eating

Maintain a high level of personal and environmental hygiene

Do not defecate in the open, use toilet facilities such as pit latrines, KVIP or water closet if available

Clean toilet and surfaces contaminated with faeces with disinfectant or ash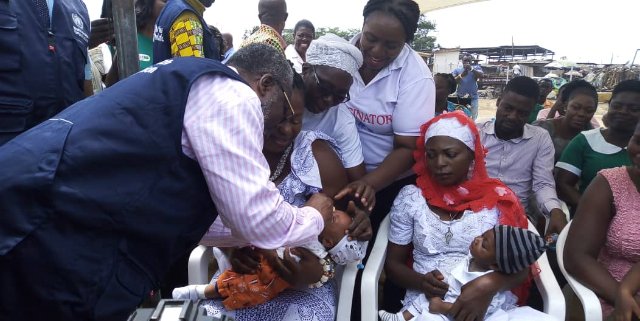 NB
Complete your children's immunization to protect them from vaccine preventable diseases.
Ensure your relatives and friends also complete their children's immunization.
Report to the nearest health facility with any sudden paralysis in children under 15 years of age within 24 hours.
Acknowledgement: KNUST School of Public Health, Ghana Health Service, Centers for Disease Control and Prevention